Engineered for Performance
Author: sondra_robinson27 Employee Posted: 16-May-2008 | 5:01PM · 0 Comments
Does your security software do any of the following things?
      •  guard against virus activity before users see the effects of it
      •  keep hackers from stealing personal information
      •  prevent the system from becoming a zombie
      •  thwart phishing attacks from getting people to give away data
      •  stop malware and spyware from installing themselves
If your answer is yes (and I hope it is!) then your software is using up some amount of the system's memory in order to keep you safe. Symantec's mission is to make this protection impact as minimal as possible while still keeping you 100% protected. The more security software tries to catch things before they become a problem, the more impact they are going to have.
But not all computer slow downs are the fault of security software. There are things you can do to keep your computer running in tip top shape. Here are some tips I've learned in my 3 years on the Norton Products Performance Team which help keep my computers at the top of their game:
1)  If more than 1 person is using a computer, create specific user log-in IDs. This will keep their preferences from adversely impacting you.
2)  Avoid using too many start-up applications. The more applications the computer is trying to maintain and keep active, the slower the system will be.
3)  Install only the applications that you need, and uninstall applications that you no longer use or want. Don't just delete folders from the Program Files directory; go through the Add/Remove menu to remove unwanted programs.
4)  Do not run more than one security application on the system at a time. The logic of 'if one is good, two must be better' does not work! Having more than one application trying to protect your system can lead to dramatic slow downs, decreased protection, and potential instability. Every single security vendor on the market is aware and warns against this situation.
5)  Run the System Defrag and Clean Up tools to keep things from getting scattered or cluttered. The more scattered and cluttered the system is, the slower and chunkier it starts to act.
6)  Where possible, try scheduling background processes for off-hours. For example, set your virus/spyware/malware scan or the Windows updater to run over-night, when you know the system is free.
7)  If you're still using a version of Norton older than 2008, you're missing out on all the great performance and security gains we've introduced.
One of the fun things about my job is looking at the many competitors available and comparing our improved security model against theirs. Since the inception of the Performance Team in 2005, we've come a long way baby! But don't take my word on that; the improvements have been documented by PassMark Software, an independent testing vendor. PassMark compared 10 of the top internet security suites, of which Norton Internet Security 2008 was one, and confirmed the results of all our hard work and dedication to reducing perceptible impact for our customers. Take a look: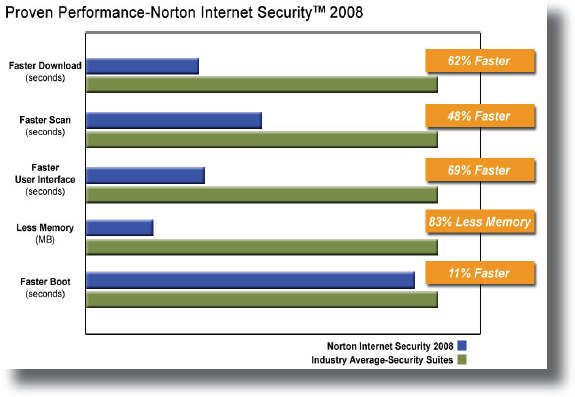 What's this mean for you? All the same great protection and peace of mind, but without the frustration of an unresponsive computer. Not only did we work to bring you reduced impact, but also increased protection by adding features such as Home Networking and Identity Safe. I'm proud to say that I believe Norton Internet Security 2008 is the best security suite product on the market … and I've looked at most all of them! As mentioned in the tips, if you're running 2007 or older, you're missing out. Update now.
I hope these tips help you. You'll be seeing a lot more updates from our team in upcoming releases so stay tuned!
Message Edited by Sondra_Magness on
05-20-2008
04:00 PM